Adventures in Race Directing
Well, this weekend I'm packing up the family Griswald-style into the family truckster (aka Subaru Forester) and heading down to Louisville to spectheckle (spectate and heckle) at
Cyclocross Worlds
. Having a cyclocross World Championship in the U.S. is a huge deal! Cross has deep European roots. For the entire history of the sport the World Championship race has never left Europe.
U.S. cyclocross racing has been absolutely exploding in the last 10 years.
It is far and away the fastest growing form of bike racing. The fact that a World Championship race will be held on U.S. soil is a huge testament to the growth and popularity of the sport here. 5+ years ago when I started racing in some actual sanctioned events I could probably count on my hands the number of people in Bloomington-Normal (combined population of about 130,000) who had ever done a cross race. This year the
Bloomington Cycle and Fitness team
often had more than 10 people racing in a given weekend.
Cyclocross in Illinois has been almost completely defined by the highly successful Chicago Cross Cup (CCC). The CCC series extends from September through December with one or more races almost every weekend. These races bring in huge (for cross) fields. There are frequently two Cat 4 races with nearly 100 riders in each. Cat 1, 2, 3 races usually see 50 or more riders. If you are in the Chicago area these races are super-convenient with a decent amount of variety across courses. I love getting up there to race, but driving 4-6 hours round trip for a 45 minute race gets to be challenging both in terms of time away from the family and in terms of travel costs.
I've wanted to see more downstate races for a long time, but in recent years there have only been 1 or 2 races outside of the Chicago area. You can't just plop down a new cross course anywhere. Great cross courses usually have all the following elements: hills, sand pit, some pavement, a run-up where you have to carry your bike, and lots of corners. Outside of assisting with putting on some of our local triathlons I didn't have any race directing experience. What I did know was that if I was going to commit all the time it takes to put on a race that I wanted it to be in a venue that I loved and believed in. That venue is Miller and Forest Parks in Bloomington. The two parks combined create what I think is just a classic cyclocross course. We've got the hills, the long beach section and best of all an old-world style stone bridge with a flyover (that means stairs up, ramp down for you non-crossers!). After slashing through more city red tape than I ever imagined I got the new
Miller Chill CX
race approved for last December.
Great logo courtesy of Ryan Bertrand!
Race week and race day were drizzly and rainy, so we ended up with the sort of iconic muddy cross conditions that make for
lots of good pictures and videos
. By all accounts the race was a success. 50 riders would have been around the break-even point and a good turnout would have been 75. We ended up with about 120 which is certainly the largest-ever downstate cross race. Even more important to me is that we had around 30 first-time cross racers! I love that we introduced so many people to the sport during a single race!
Teammates Bill Perry and Nick Ramirez playing in the mud
Huge props to Bloomington Cycle and Fitness for believing in and sponsoring the race and the BCF team for all the volunteer hours before, during and after the event! Special shout-out to my buddy Chris Daniels who designed, built and then disassembled a huge flyover ramp. It was a ton of work making the race happen and I have even higher levels of respect for all the race directors out there. Fortunately the event has been reapproved by the Park District for 2013 and I'm anticipating an easier go of it from a directing standpoint the second time around!
Cyclocross Nationals- Verona, WI 1/12/2013
This past fall I did not swim a single lap after finishing the
Rev3 Cedar Point Ironman
in September. I also cut my running back to just one or two easy maintenance-style runs per week. The idea was to take my triathlon bike fitness and build on it to have a big cross season. This sorta worked. Fall and early winter is still my off-season. It's just unrealistic for me to try and maintain my highest levels of fitness year-round. Fall is also my busiest time at the university. I can say that I managed to put together a solid cross season, but the actual training was usually 2 or 3 rides per week. I really struggled early on as I started converting my steady-state sub-threshold triathlon fitness into the super intense threshold and VO2 efforts required by cross. By late November my legs were finally starting to come around. I had a pair of top-20 finishes in the Cat 3 races at the very competitive Jingle Cross Rock races. I followed that up with another good showing at the Illinois State Cyclocross race placing 18th out of about 80 riders.
One of my goals for this season was to race in my first cyclocross masters nationals. To outsiders this may sound a little more prestigious than it is. In triathlon and other sports you have to meet certain qualification standards to race. For the masters events you just need to have your category 3 license (Cat 1 is the highest, 4 the lowest). In any case, the race was just outside of Madison, WI so a pretty short drive and a chance to get in a mid-winter visit with
Evotri
teammates, Stu and Rob. Given the location and time of year I was hoping for some snowy conditions that would limit the ability of the top riders to use all their power. My #1 goal for nationals was not to get lapped and pulled from the course. For an event like this if it looks like you might get lapped and interfere with the leaders, then the officials will pull you off the course (this is a good rule for big events).
This video gives you a good sense of the course conditions during the week!
The same course is raced on for almost a full week at nationals. The week started out with a bunch of snow on the ground, but then a warm snap hit. The course deteriorated (read became a mud pit) from day-to-day. My 30-34 race was the last one on Saturday. When I arrived the windchills were already below freezing, but the course was still mucky. There are no provisions for pre-riding the course unless you were there super-early. I scouted most of the course on foot with my buddy and IWU colleague Rick Lindquist. The course was not technical (in order to accommodate big fields). The muddy and icy conditions made it much more technical than it would have been dry or completely frozen. As my race got closer the temps just kept plummeting. I put on all my warmest cycling gear and stuffed those chemical handwarmers every place I could. Watching recaps of the races earlier in the week I knew that I would need a pit bike for this race. In cross you can swap out your bike or twice per lap due to mechanical problems, or in this case mud. I couldn't find anyone to loan me another medium-sized cross bike, so I did what I could to make Cara's extra-small frame make due. This bike actually deserves a few words. Her black bike has pink decals that say "Punisher." The frame is actually a hand-me-down from my sister-in-law Heather. To make the story even better, my mom raced this bike at Miller Chill (her first-ever cross race)! To put this in perspective for you, riders were bringing matching high-zoot team issue carbon cross bikes with carbon wheels into the pit and I was bringing an extra-small pink Punisher...bring it on!
THE PUNISHER!
I was happy that my ranking points did not have me staged all the way in the back row. Close to it, but not the back row! When the race started, temps had dropped under freezing. The first quarter mile as all pavement and insane speeds. We hadn't strung out much when we moved into the mud and first corners. The course was super-muddy, but actually beginning to freeze as we raced. Frozen ruts are one of the trickiest conditions to handle. They suck your wheel in and then out from under you if you're not careful. The Madison course had one smallish hill that was rideable earlier in the week and then again for the elite races when the ground froze solid on Sunday. Not for our race. I don't think anyone was riding the hill- which is good for me since it meant more running! There was a second longer forced run-up with railroad ties midway through the course. My plan was to go pretty close to all-out early on in order to accomplish my goal of not getting pulled. I picked some good lines and stayed upright as people wiped out around me. I went down hard once in a frozen corner and had a few spots where I had to unclip and save myself from going down. The pace was pretty intense and the field started to string out pretty quickly. Since the Punisher didn't fit me and also uses Shimano instead of SRAM shifting my plan was to wait until the second lap to switch bikes. Ideally, I think I would have swapped every lap and kept Rick, my pitman, hopping back and forth to the power washers to clean off all the mud. Heckling is a big part of cross culture and wow did the crowd pick up on the Punisher. I got way more heckles -and some cheers- on the lap where I rode the Punisher. The super-small frame really wasn't all that bad, but SRAM and Shimano shift in opposite directions so I kept screwing that up. I don't know if it was from adrenaline or from learning the better lines on the course, but my Punisher lap was my second fastest of the day. On my last lap I could sense there weren't many people behind me, which confused me because I was pretty sure that I was ahead of a decent amount of riders. Only later when oxygen returned to my brain did I realize that most of the riders behind me had been pulled- so I succeeded in riding all my laps and not getting yanked! I ended up finishing 23rd. I was also the highest-placed category 3 rider which I was pretty happy about.
Looks like mud on my bike, but it was frozen solid by this point!
Race conditions were just plain brutal. Windchills were down near the single digits. During and after the race there was this weird phenomenon that I have not encountered very frequently during all my winter riding. The mud on the ground was still warm enough to get picked up and lodge on our forks, frames and brakes. After it left the ground though, it started to freeze solid on the bikes. The water coming out of the pressure washers was probably near freezing itself so you actually had to forcibly chip iced mud off the bikes. The race was a good experience all around. Huge props to my Augustana Cross Country teammate Lauren "Shorty" Habenicht for braving the elements and cheering me on! Glad I went and I made some mental notes about course design that I can apply back to my Miller Chill race.
CX magazine covered my race here
. I actually made it into their photo gallery: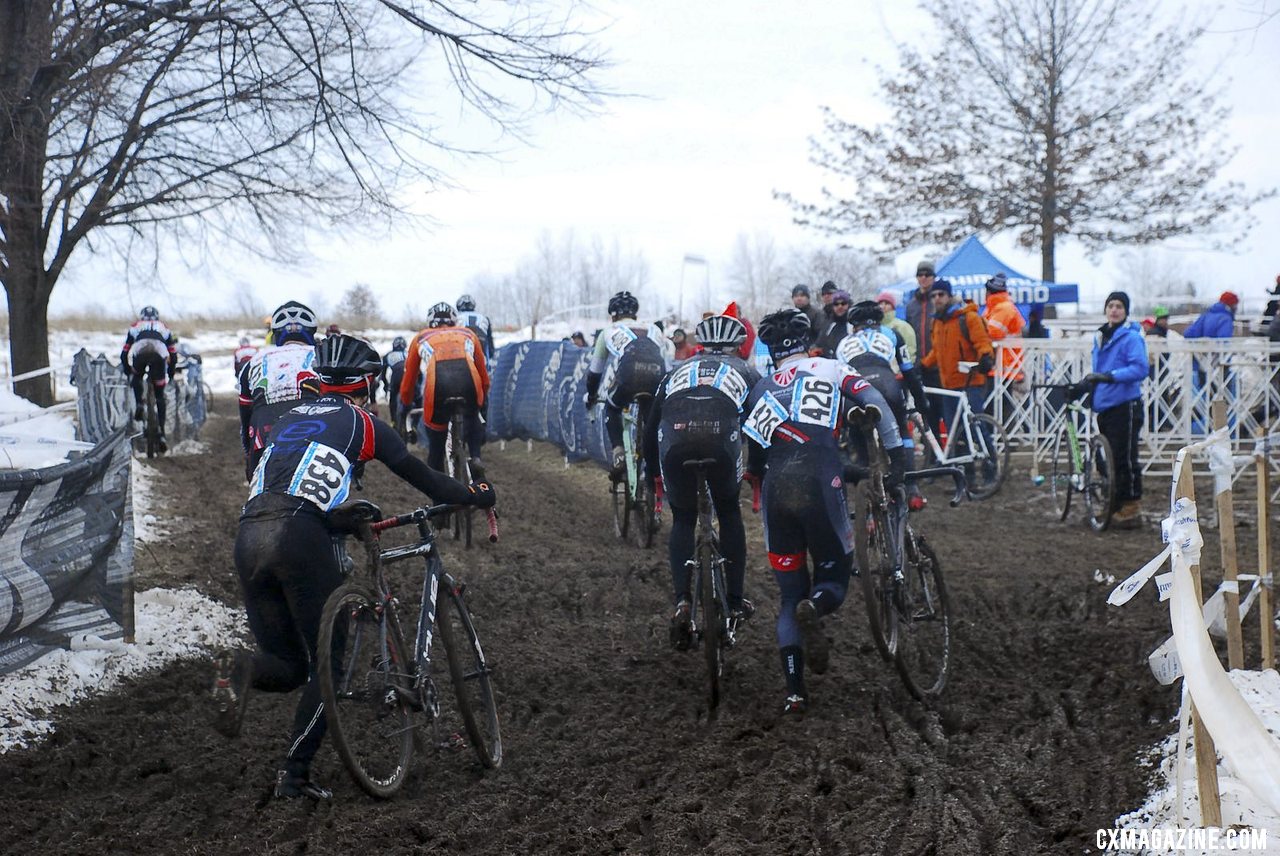 A great example of my mad "riding" skillz!
If you look back at my post from the beginning of last year I had hoped to race both Nationals and the Masters World event. I really hoped to make this work, but the logistics just sucked. In order to race in the official Masters World race for my age category I would have had to go down to Louisville on Wednesday for a qualifying heat. If I managed to place in the top 80 then I would get to race again, but not until Friday. Seeing no good way to take 1/2 a week off work and away from the family I decided I would be happy enough to just go down, meet up with my brother and his family, drink some beers and cheer on the USA!