Over Thanksgiving weekend I was in Iowa for the most important celebration of the holiday season-
Jingle Cross Rock
! Unlike lesser holidays such as Christmas and Thanksgiving, Jingle Cross Rock is a 3 day epic party that also happens to involve grueling racing on different variations of an incredibly difficult cyclocross course! This year during day 2, Ryan Trebon finally got a gap on the field in the UCI Pro race. On the last lap, near the top of the steep, muddy run-up to Mt. Krumpit that invariably redlines all racers, he encountered a marshmallow peep "hand-up" wedged in the sportsbra of a very devoted cross fan. I guarantee you at that point in the race Trebon was in some serious oxygen debt and mainly focused on finishing up the lap without any mishaps. Still, in tremendous act of sportsmanship rarely witnessed in this day and age, he grabbed that peep and bit its head off!
This one symbolic act distills everything that I have come to love about cyclocross racing. I'm actually not being sarcastic here. When I thought about it some more, this whole attitude of laying it on the line during a race, but never taking yourself too seriously really resonates with me. I have seen one cyclist punch another after the finish of a road bike race where he perceived the other guy to have made a bad move that caused him to crash. I've seen top age group triathletes content to sit in big draft packs for most of an Ironman race. I've known runners that went to psychologists because their heads got so messed up on race day. Cyclocross has become my antidote to all this silliness. Sport should be challenging and there is great value in exploring our physical limits, but it should also be fun.
Driving back home from Jingle Cross Rock I declared that it was my favorite race, of any type, anywhere. Even among excentric cross races Jingle Cross stands out. You really have to go to experience it, but I'm going to try and capture some of the awesomeness that is Jingle Cross here.
The Course
Triathletes have been known to traverse the country seeking the next PR course. Flat, straight courses are valued for their potential to shave off a few seconds or minutes. At the opposite extreme, no two cyclocross courses are alike and none are straight! A race may be held in a flat, grassy, park, but the construction of the corners and barriers always adds a degree of difficulty. Jingle Cross Rock is held on some county fairgrounds near Iowa City, which may conjure up images of flat cornfields. Actually, there is only one hill at Jingle Cross, but Mt. Krumpit is a beast and the course designers use it for all it worth.
Mt. Krumpit from below. This is a descent.
Another unique element of Jingle Cross is that they route the bike course through some of the barns on the course. One of these, dubbed the Grinch's Lair, goes through some loose, deep sand in one of the barns.
Me bombing through the sand in the Grinch's Lair (it's deeper than it looks!)
To keep things festive, there is Christmas music and lights. Another part of the course forces riders to weave in and out of animal stalls in another one of the barns. Pure. Genius.
New to the race this year was a "flyover". These structures are becoming more common in cross races. They consist of a set of stairs on one side and then a steep ramp down the other side. Here's a pic of the ramp side of the flyover at Jingle Cross. Later the course loops back under the same structure.
A last unique feature of the course is the Whoville whirl. This is laid on a flat grassy section and is basically a spiral that you ride into and then it spirals outwards (it only makes sense when you see it in action). Being held over Thanksgiving weekend, you generally get snow some days (this year was a rare dry year) and ice for at least the morning races.
As I said earlier, Jingle Cross is now 3 days of consecutive racing, but each course is different. I'll try to give you a little play-by-play for each day.
No that's not a typo. The Friday night races are held under the lights. The organizers bring in some serious candlepower to light up most of the course.

My Cat 4 (beginner) race was very big (50+) and pretty tame by Jingle Cross standards. The barns, flyover, and whirl were in, but hills and barriers were excluded. I registered late, which meant I started way back, which can make or break a cross race if you happen to be in, or behind, a pile-up. I finally sucked it up an bought a USA Cycling license because I was tired of doing the short, less difficult, beginner races. The license is $60 per year for mountain bike and cyclocross, but another $30 if I want a road license as well. This is a rip-off for someone like me whose primary sport is triathlon, but dabbles road, mountain and cross. In any case, my goal for the weekend was to score enough points to upgrade to Cat 3.

Jonah and Cara cheered me on from inside the Grinch's lair for most of the race.

Jonah cheering his dad through the Grinch's Lair Friday night.

I stayed out of trouble Friday night, but courses with little running and no hills don't favor me much. I ended up 8th and knew I had to step it up the next two days. We watched a few more races after mine and Jonah nearly got squashed by a rider that flipped entirely upside down and over the fence on the very technical Mt. Krumpit descent. Driving back to the hotel from the race I looked at the course crawling with racers, under the lights on a freezing November night in Iowa. What must the average person driving by this scene possibly thing of the whole circus? This makes me smile everytime I think about it.
Saturday morning we woke up to clear skies, but temps in the teens. That meant that any mud generated during the Friday races was now a slick, solid mess. My
Bloomington Cycle
teammate Sean Hyser and his dad were also there for all 3 days of racing. On Saturday morning they agreed to watch Jonah so that Cara and I could both race (our races were back-to-back). We really appreciated them taking Jonah for a couple hours! This was Cara's first official cross race (she's done some of our local recycle-cross races in the past). She made up a T-Shirt that said "Baby's First Cyclocross Race" that I don't think many people noticed. Pretty cool anyway! (If this is confusing you read the post below!) Cara avoided all crashes (rarely happens to me) and had a good time.
On Saturday, I was excited for a more challenging course. The more barriers, hills, running and technical sections there are, the better I finish. I just don't have the pure bike fitness to compete with the cyclists on courses that basically amount to flat grass criteriums. The Saturday Cat 4 course had barriers, a big hill run-up, a fast, somewhat technical descent, icy corners and a few other features that suited me. I again started way back since staging is based on registration. As a side note, my single biggest complaint with Jingle Cross is that on Saurday and Sunday they don't call-up the top ten finishers from the previous race, which I think would be a better staging method. With a risky fast start I picked up about 10 places to probably around 20th place. I rode really clean without any major mishaps. I definitely picked up time and places on each hill run-up even though I felt like I was dying and dragging ass while doing it! In the first lap, I was able to ride a tricky, icy, off-camber section and all of a sudden found myself leading the race! I'd have to say it was pretty cool having the announcers calling the race as you rode past the grandstands. There were some very strong riders that got caught up in a crash behind me and eventually I was overtaken by two of them. No excuses from me whatsoever. They were physically stronger and at least equal in handling skills. I finished 3rd out of 55 which probably represents my best cross race ever. 3rd also meant a trip to the podium and lots of points towards an upgrade. I believe the winner of this race was from Colorado, which just shows the scope and caliber of racers at this event.
There were lots more races on Saturday along with a spectator party that keeps gaining momentum until the UCI Pro races. So officially, outside alcohol was banned from the races (they were selling cans of beer at reasonable prices). About halfway through the day Saturday I see a bunch of guys pushing something up Mount Krumpit. Looking closer I realized it was a keg on a dolly. Not only that, but it was poorly "disguised" by being wrapped in a blanket with sticks, cornstalks and a pumpkin on top for camoflague. My people. My beautiful, beautiful people.

Another B-N Cycle Teammate, Ken Hoepker, drove over to Iowa just to support and take in the Jingle Cross atmosphere (along with drinking some beers while heckling racers). I should say a little bit more about cyclocross culture for the unitiated. Heckling is a time-honored tradition and is expected from hard-core cross spectators. Also, perhaps because of the Belgian roots of the sport, I have been to exactly zero cross races that don't involve lots of drinking on behalf of the spectators and sometimes the riders. "Hand-ups" are another element unique to cross. I don't know the origins of this particular tradition, but it comes part and parcel with cross racing. Hand-ups often come in two formats: beer or money. The fun comes in trying to see which racers will actually grab and chug part of a beer mid-race. Money is another common hand-up. Cash hand-ups are generally reserved for the pro 1-2 races since it is well-known that most lesser-category riders will interrupt their race for a buck! Sometimes the money is scattered about on a climb or sand pit, but Jingle Cross specatators (whom I love dearly) really up the ante. This year the girls from the Hollywood Cycle along with some others found all sorts of appealing places to place cash as well as the aforementioned marshmallow peeps. Often it takes way more than a single to get a UCI rider to take notice. Funny how singles placed in strategic parts of the female anatomy completely changed this dynamic. I give huge, huge props to the rider that was able to collect a single from a sportsbra without using his hands (use your imagination). Some of the hijinx were captured on film and conveniently uploaded to YouTube. This starts to give you a sense of the awesomeness of cross fans!

Sunday morning was cold and clear again, although it would warm up quite a bit before the day was over. I had survived two days without any significant damage to my person and was excited about day #3. The Sunday morning course had quite a bit of frost on all the corners making things a little sketchy. My poor starting position really caught up with me on Sunday. A big pile up in the first two minutes of racing meant I got stuck way behind as the leaders rode away. There was also a short, but really steep hill that I practiced riding during warm-up. Unfortunately, riders in front of me tried it and failed leading to a pile up that I got mixed up in. I actually had my foot stuck inside someone else's wheel for awhile which didn't help things. My first lap was discouraging and I was way down on the leaders. As the race started to thin out I picked off riders one by one. I think two laps in there was a relatively long, somewhat straight section where if your legs weren't toasted you could really move. I put everything I had into a big effort and moved up about five places. This turned out to be one of the decisive moves for me in the race as none of those riders passed me back. Again, I was having a hard time telling where I was place-wise because of the first lap debacle. I was able to ride some of the more technical sections that others were pushing so that moved me up some more. I came across the line in 3rd again, with 2nd not far in front, but 4th not far behind!
The best feature of Sunday's racing was the bikini/speedo single speed category. Yes there is a speedo/bikini race in freezing temperatures on an Iowa fairgrounds in November. Silly of you to think otherwise. Half the singlespeed race is quite serious and competitive while the back half is, well, not. There was at least one guy and one girl who have my utmost respect and admiration that raced all-out in clothing that offered almost nothing in the way of protection against crashes. The bikini/speedo racers had multiple beer pitstops and two of them got on a tandem at some point in the course (I know, just when you thought it couldn't get any better, it does!). Fortunately for all of you who weren't there the race was well-documented in picture and video.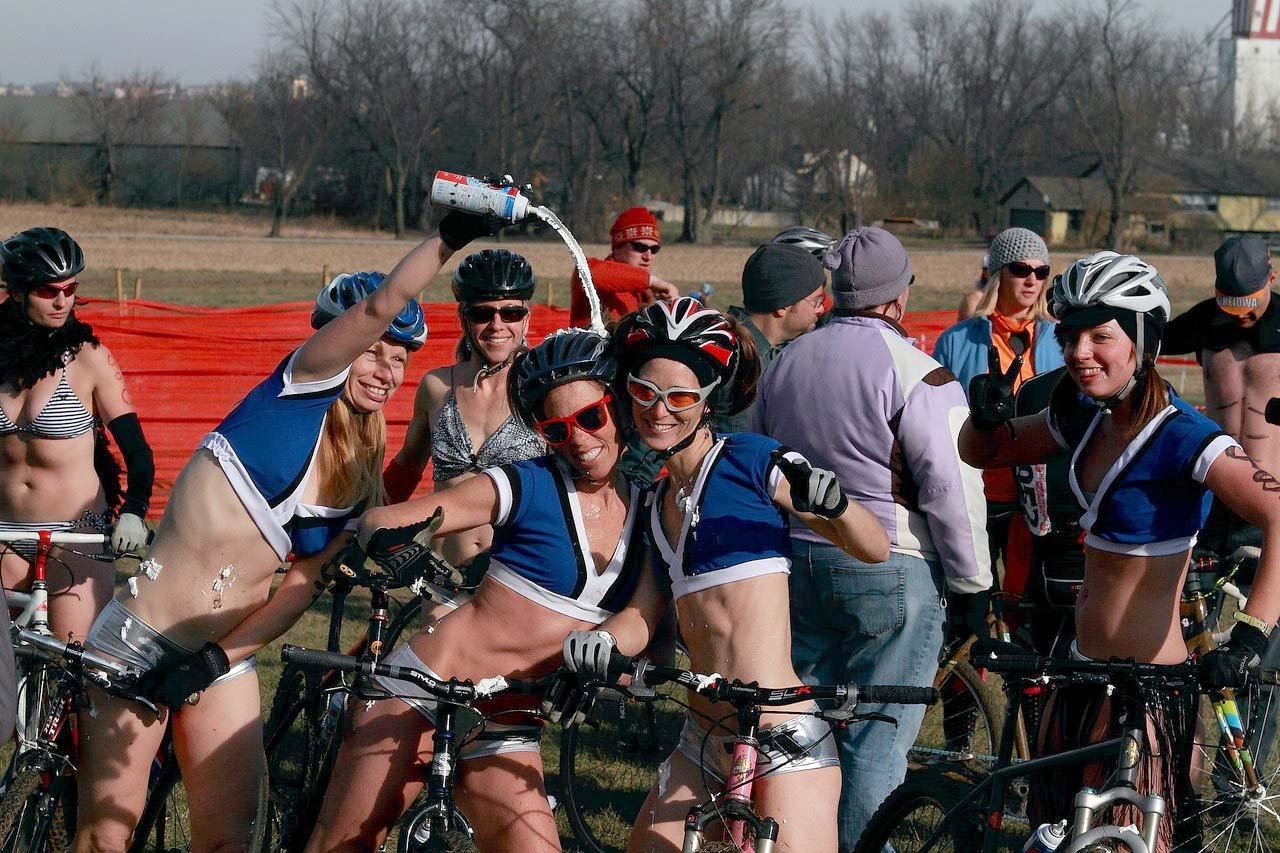 All Good Things Must Come to an End!
So after 3 days of racing, I had accumulated enought points for an upgrade to Cat 3- which was one of my big goals for the fall. This means I can get out of the crazy, packed Cat 4 fields in the Chicago Cross series to the ever-so-slightly less packed and crazy Cat 3 races. It also means that if I can make it back to Jingle Cross next year, I get to do the more difficult Mt. Krumpit climbs and descents. Game On!
Sean Hyser raced Cat 3 all weekend on his mountain bike, which was probably less of a disadvantage on this course than on most other cross courses. He racked up 8th, 11th, and 10th place finishes in a pretty competitive field.
My sponsors were well-represented at Jingle Cross. Both my
Evotri team
and
Bloomington Cycle Teams
are sponsored by
Specialized
which works out really well for me. Specialized had a big tent and bikes at the race. Todd Wells (Specialized) finished 2nd on both Sat and Sun.
Zipp wheels
were everywhere on the pro (and many of the amateru) bikes. I think it says something about the durability of Zipp carbon wheels that these wheels that hold up to off-road abuse are the same found on road and tri bikes.
Next winter and the year following, cyclocross nationals comes to Madison, WI and I definitely plan on racing (what's not to like about cyclocross in Madison in January??). Not only that, but the Master's World Cyclocross Championships will follow nationals in Louisville next winter and the winter following. For 2013 the UCI elite world championship will be held in conjunction with the World Masters Champs. That will be a very cool event to go and watch! Man I love this sport!
I'll leave you with one last high-def video from the Jingle Cross races. It might be better to watch this on YouTube rather than on my blog which seems to cut things off unless I really shrink everything down.
http://www.youtube.com/watch?v=iC29FGyG5lU